Nå kan du raskt og enkelt rekonstruere dine data fra Windows operativsystem ved hjelp av Ontrack EasyRecovery. Du får umiddelbart tilgang til dine data når rekonstruksjonen er vellykket!
Dine Windows-data. Ferdig rekonstruert.
Ontrack EasyRecovery er en gjør-det-selv programvare som rekonstruerer data fra Windows-baserte media.
Du kan rekonstruere ødelagte og slettede filer, og gjenoppbygge data fra formatterte og korrupte volumer. Med et enkelt bruker interface er verktøyet et hjelpemiddel selv for ikke-tekniske brukere.
Versjon 15 er den beste ennå, inkludert følgende forbedringer:
Brukervennlige forbedringer gjennom hele applikasjonen

Mange nye filformater er lagt til for forhåndsvisning for å gi brukerne tillit
Forhåndsvisning av gjenopprettbare videofiler med muligheten til å se videoen i fullskjermmodus
Forhåndsvis innhold som kan gjenopprettes i ZIP- og arkivfiler

4K sektorstøtte
Støtte for dobbel skjerm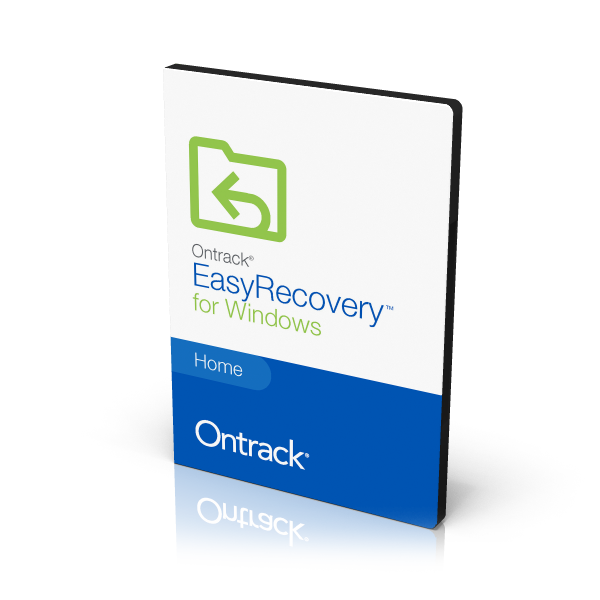 icon
Omfattende muligheter til å redde tapte data
Verktøyet er skreddersydd til å søke etter navn og filtyper på harddisker. Sorteringsfunksjonen benytter en såkalt "Filtered Tree" løsning som vil på en oversiktlig måte vise deg hvilke mail, bilder, dokumenter, databaser og multimediafiler som kan rekonstrueres i egne foldere. Programvaren lar deg søke og rekonstruere data fra lokale eller eksterne harddisker (HDD/SSD), optiske disker og andre lagringsmedier.
icon
Quick og Deep Scan
Quick Scan for raskt å rekonstruere slettede data. Deep Scan for å rekonstruere data som er korrupt, har feil og mangler og som dermed er vanskeligere å rekonstruere.
icon
Avansert RAID Recovery
Nå kan du rekonstruere korrupte eller data du ikke har tilgang til fra RAID 0, 5 og 6.
Programvaren lar deg raskt hente tilbake dataselv om rebuilt operasjonen har feilet. Du trtenger heller ikke RAID controlelr for å kjøre programvaren. Verktøyet supporterer RAID servere og lagringssystemer og har muligheter til å bygge virtuelle RAID, søke etter slettede/tapte RAID volumer og rekonstruere RAID data.
Hvilken versjon passer for deg?
Professional
Ontrack EasyRecovery Professional, egnet for små og mellomstore bedrifter, rekonstruerer fra flere datataphendelser som utilsiktet sletting og formatering, inkludert tap av data etter serverkorrupsjon.
Oppretter disk image
Rekonstruerer data fra CDer og DVDer
Overvåker tilstanden til harddisken
Technician
Ontrack EasyRecovery Technician inkluderer verktøyene for å utføre datagjenoppretting på alle typer lagringsenheter og gjenoppbygge ødelagte RAID-volumer.
Alle funksjonene til Premium-versjonen pluss:
Programvarelisens for flere systeminstallasjoner
Inkluderer lisens for kommersiell bruk
Gjenoppretter tapte eller formaterte RAID-volumer
RAID 0, 5 og 6 datagjenoppretting
Opprette virtuelle RAID
Toolkit
EasyRecovery Toolkit tilbyr alle nødvendige verktøy for å utføre gjenopprettinger på logisk korrupte Windows-, Mac- og Linux-filsystemer og alle typer lagringsenheter.
Støtter gjenoppretting på Windows, Mac og Linux-enheter
Opretter disk images
Kloner HDDer og SSDer
Programvaren kjører kun på Windows OS
Gjenoppretter tapte eller formaterte RAID-volumer
Free

Home

Professional

Technician

Data Recovery

1GB
Unlimited
Unlimited
Unlimited

Recover Lost, Deleted or Formatted Data

Recovers and Restores Deleted Photos, Videos & other Critical Files

Recovery from Any Storage Media

Data Recovery from Hard Drives, SSD, USB Flash Drives, SD Card & removable media

Photo Recovery

Easily undelete photos from digital camera, SD card, Flash Drive

BitLocker Data Recovery

Recovers data from BitLocker encrypted drives

Recover Any File Format

Recovers Any Photo, Video, Document, Database or Email File Formats

Get Back Deleted Emails

Recovers PST, DBX, NSF, EDB and much more email files in seconds

Large Sector Size Support

support for 4K and other non-512 byte sector sizes

Dual Monitor Support

Languages

Selectable user interface in English, German, French, Italian, Spanish, Japanese

Deep Scan for Better Recovery Results

Up to 100% Recovery through Deep Scan

Lost Partition Recovery

Recover Data from Inaccessible or Lost Partitions including FAT and NTFS formats

Unbootable System Data Recovery

Recovers data from unbootable or crashed systems

Create Image for a Corrupt Hard Drive

Recovers Data from Hard Drive with Bad Sectors

Raw Recovery

Recover data from RAW hard drives

S.M.A.R.T. Support

Extract valuable diagnostic information to assist with recovery

CD and DVD Data Recovery

Restore files from scratched or damaged optical discs

Repair Corrupt Video Files

Repairs MOV, MP4, MPEG, MTS, MKV, FLV & more video files

Repair Multiple Corrupt Videos

Repairs Multiple Corrupt Videos in a Single Click

Repairs Corrupt Photos

Repairs Corrupt JPEG, CR2, CRW, TIFF & more photo files

Extracts Thumbnails of Images

Extracts thumbnails of images for badly corrupt Photos

Recover RAID 0, 5 & 6 Data

Data Recovery from RAID 0, 5 and 6 Hard Drives

Recover Data from RAID Volumes

Data Recovery from FAT, exFAT & NTFS RAID Volumes

Recovery from Virtual RAID Construction

Create Virtual RAID When Reconstruction Fails

Commercial License

Recover data for your customers

Multiple Systems

Authorized for use on up to 3 systems at the same time
Steg for steg
Last ned gratisversjon
Programvaren scanner fort media og lager en liste over tapte eller slettede filer.
Viser deg en liste over filer som kan rekonstrueres.
Inneholder denne listen den filen du ønsker å redde, kjøper du den lisensen du trenger.
Du kan søke etter spesifikke filer ved å søke etter like filnavn og filtyper
Du kan bruke alle harddisker, inkludert nettverksdisker og eksterne medie, for å lagre de rekonstruerte data.
Kopier deretter disse nylig rekonstruerte data til endelig destinasjon.