Dine Windows data. Rekonstrueret.
En gør-det-selv software der giver mulighed for rekonstruktion af Windows baserede enheder.
Brugerne kan både rekonstruere beskadigede og slettede filer, og rekonstruere data fra formaterede og fejlende volumer – ja, selv fra initialiserede diske. Den intuitive brugerflade gør det muligt, for selv den uerfarne bruger, at rekonstruere data.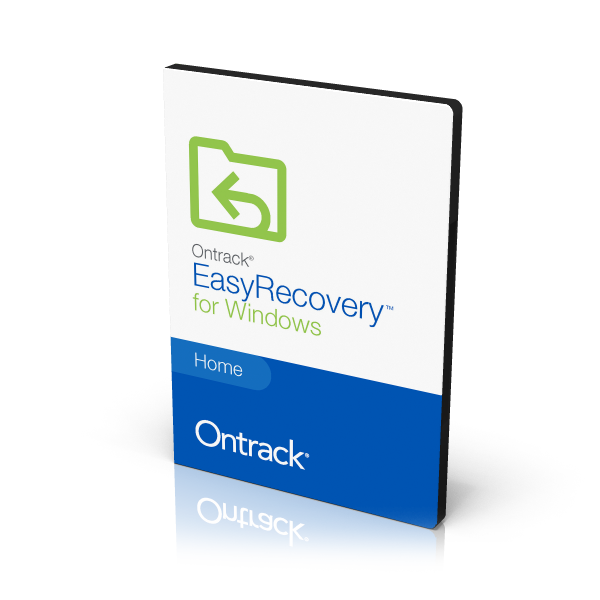 Version 15 er den bedste endnu, inklusive følgende forbedringer:
Brugervenlighedsforbedringer i hele applikationen

Mange nye filformater tilføjet for at få vist eksempler for at give brugeren tillid
Se gendannelige videofiler med muligheden for at se videoen i fuldskærmstilstand
Se eksempel på gendanneligt indhold i ZIP- og arkivfiler

4K sektor support
Dual monitor support
icon
Ekstensiv datarekonstruktion
Dette værktøj kan søge efter navn eller type på et logisk drev. Der kan arbejdes med en 'filtreret folder' så data kan sorteres. Rekonstruer e-mails, dokumenter, databaser, billeder og multimediefiler fra lokale og eksterne enheder (HDD/SDD), optiske diske og andre enheder, inklusive iPods, tablets og mobiltelefoner.
icon
Hurtig eller tilbundsgående søgning
Ontrack EasyRecovery giver brugerne mulighed for at søge en specifik enhed, hurtigt, for derved at spare tid og muliggøre en hurtig rekonstruktion. Hvis de manglende filer ikke vises efter en hurtig søgning, så kan der efterfølgende bruges en tilbundsgående søgning.
icon
Avanceret RAID rekonstruktion
Rekonstruer tabt eller manglende data fra fejlende eller ikke tilgængelige RAID 0,5 og 6 systemer. Med Ontrack EasyRecovery, kan du rekonstruere data, selvom genopbyg-RAID processen har fejlet og controller kortet behøves ikke at være tilgængeligt for at softwaren fungerer. Værktøjet understøtter RAID-servere og lagringssystemer og kan desuden oprette et virtuelt RAID, søge efter slettede/tabte RAID volumer og rekonstruere RAID data.
Hvilken version har du brug for?
Free

Home

Professional

Technician

Data Recovery

1GB
Unlimited
Unlimited
Unlimited

Recover Lost, Deleted or Formatted Data

Recovers and Restores Deleted Photos, Videos & other Critical Files

Recovery from Any Storage Media

Data Recovery from Hard Drives, SSD, USB Flash Drives, SD Card & removable media

Photo Recovery

Easily undelete photos from digital camera, SD card, Flash Drive

BitLocker Data Recovery

Recovers data from BitLocker encrypted drives

Recover Any File Format

Recovers Any Photo, Video, Document, Database or Email File Formats

Get Back Deleted Emails

Recovers PST, DBX, NSF, EDB and much more email files in seconds

Large Sector Size Support

Support for 4K and other non-512 byte sector sizes

Dual Monitor Support

Languages

Selectable user interface in English, German, French, Italian, Spanish, Japanese

Deep Scan for Better Recovery Results

Up to 100% Recovery through Deep Scan

Lost Partition Recovery

Recover Data from Inaccessible or Lost Partitions including FAT and NTFS formats

Unbootable System Data Recovery

Recovers data from unbootable or crashed systems

Create Image for a Corrupt Hard Drive

Recovers Data from Hard Drive with Bad Sectors

Raw Recovery

Recover data from RAW hard drives

S.M.A.R.T. Support

Extract valuable diagnostic information to assist with recovery

CD and DVD Data Recovery

Restore files from scratched or damaged optical discs

Repair Corrupt Video Files

Repairs MOV, MP4, MPEG, MTS, MKV, FLV & more video files

Repair Multiple Corrupt Videos

Repairs Multiple Corrupt Videos in a Single Click

Repairs Corrupt Photos

Repairs Corrupt JPEG, CR2, CRW, TIFF & more photo files

Extracts Thumbnails of Images

Extracts thumbnails of images for badly corrupt Photos

Recover RAID 0, 5 & 6 Data

Data Recovery from RAID 0, 5 and 6 Hard Drives

Recover Data from RAID Volumes

Data Recovery from FAT, exFAT & NTFS RAID Volumes

Recovery from Virtual RAID Construction

Create Virtual RAID When Reconstruction Fails

Commercial License

Recover data for your customers

Multiple Systems

Authorized for use on up to 3 systems at the same time
Rekonstruktionsprocessen – klik for klik!
Hent gratisudgaven
Hurtig-søg enheden og få oprettet en oversigt over manglende eller slettede filer.
Se oversigten – hvis din fil (filer) er i listen – så køb den fulde version.
Søg evt. efter specifikke filer ud fra navn eller type.
Vælg drev eller enhed der skal søges på.
Kopier de valgte data til en anden enhed.