Rask datarekonstruksjon med Ontrack EasyRecovery gjør-det-selv programvare versjon 15.1. Du får umiddelbart tilgang til dine data når rekonstruksjonen er vellykket! Nå med MacOS Big Sur-støtte.
Dine Mac data. Ferdig rekonstruert
Mac-brukere vil via et enkelt interface kunne rekonstruere slettede filer, inkludert backup filer fra Apple®Time Machine®.  Programvaren benytter en avansert scanningsteknikk som raskt lokaliserer og rekonstruerer bilder, video og musikk.
Verktøyet støtter iMac®, MacBook Pro®, MacBook Air®, Mac Mini® and Mac Pro® og Apple Time Machine®. Kompatibel med macOS® High Sierra 10.13, 10.12, 10.11, 10.10, 10.9, 10.8, 10.7 og 10.6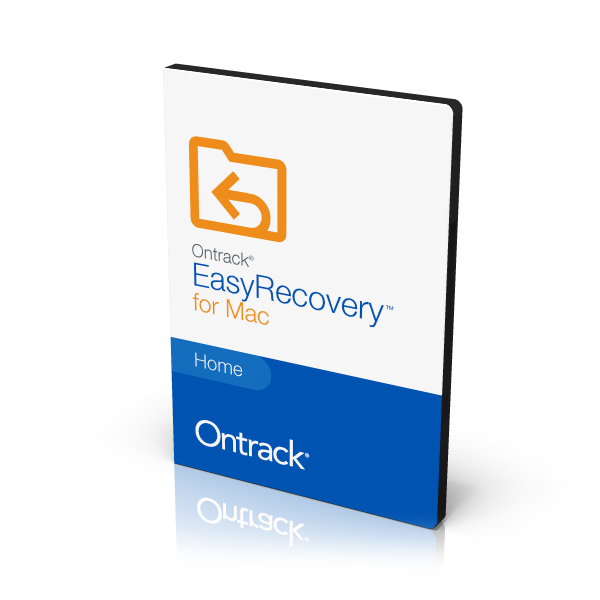 icon
Rekonstruerer permanent slettede filer
Ontrack EasyRecovery gir Mac-brukere muligheten til selv å redde permanent slettede bilder, musikk, video og dokumenter eller data som er utilsiktet sletter fra et filsystem.
icon
Quick Scan og Avansert Scan
Quick Scan for raskt å rekonstruere slettede data. Avansert Scan for å rekonstruere data som er korrupt, har feil og mangler og som dermed er vanskeligere å rekonstruere.
icon
Restore slettede volumer
Programvaren innehar kraftige verktøy som kan lokalisere og gjenoppbygge korrupte, ødelagte eller slettede data på enhver HFS, HFS+, FAT, NTFS, eller ExFat formattert harddisk.
icon
macOS High Sierra Data Recovery
Ontrack Easy Recovery er kombatibelt med macOS High Sierra 10.13. Alt du trenger å gjøre er å følge definerte prosesser for å forberede ditt MAC-system på at macOS High Sierra startup-disken skal rekonstrueres.
Hvilken versjon passer for deg?
Free

Home

Professional

Technician

Mac Data Recovery
1GB
Unlimited
Unlimited
Unlimited

Data Recovery

MacBook Pro, iMac Pro, Mac Pro, MacBook Air, and Mac Mini

Languages

Selectable user interface in English, German, French, Italian, Spanish, Japanese

Recover Lost, Deleted or Formatted Data

Recovers and Restores Deleted Photos, Videos, emails & other Critical Files

Creates Recovery Drive for Data Recovery

Creates bootable USB media to recover data from a crashed/non-bootable Mac

Recovers Backup Files from Time Machine

Restores deleted or lost backup data from a Time Machine external drive

APFS Support

Recovers data from APFS, HFS+, HFS, FAT, ex-FAT, & NTFS systems. Supports macOS Catalina and Big Sur

KEXT Disable Feature

Get control of your security with the ability to disable KEXT

Recovers Deleted Files from Encrypted Hard Drives

Restores deleted data from an Encrypted storage device

Searches Lost or Deleted Volumes

Retrieves inaccessible files from lost volume(s)

Recovers Files from BootCamp Partition

Restores deleted data from NTFS partition

Create Image for a Corrupt Hard Drive

Recovers Data from Hard Drive with Bad Sectors

Comes with Save and Load Scan Features

Saves scan information for data recovery at a later stage

Supports a Wide-Range of Storage Devices

Recovers data from USB-C SSD, HDD, Fusion, memory card, etc.

SMART Drive Monitor

Disk cloning to facilitate secure data recovery

Repair Corrupt Video Files

Repairs MOV, MP4, MPEG, MTS, MKV, FLV & more video files

Repair Multiple Corrupt Videos

Repairs Multiple Corrupt Videos in a Single Click

Repairs Corrupt Photos

Repairs corrupt JPEG, ARW, CR2, CR3, CRW, DNG, ERF, HEIC, MRW, NEF, NRW, ORF, PEF, RAF, RW2, SR2, SRF, and TIFF

Extracts Thumbnails of Images

Extracts thumbnails of images for badly corrupt Photos

Commercial License

Recover data for your customers

Multiple Systems

Authorized for use on up to 3 systems at the same time
Steg for steg
Last ned gratisversjon.
Programvaren scanner fort media og lager en liste over tapte eller slettede filer.
Viser deg en liste over filer som kan rekonstrueres.
Inneholder denne listen den filen du ønsker å redde, kjøper du den lisensen du trenger.
Du kan søke etter spesifikke filer ved å søke etter like filnavn og filtyper.
Du kan bruke alle harddisker, inkludert nettverksdisker og eksterne medie, for å lagre de rekonstruerte data.
Kopier deretter disse nylig rekonstruerte data til endelig destinasjon.