Rekonstruer hurtigt data fra dit Mac system med Ontrack EasyRecovery gør-det-selv software version 15.1. Se dine rekonstruerede filer med det samme! Nu med MacOS Big Sur support.
Dine Mac data. Rekonstrueret.
En gør-det-selv software der giver mulighed for rekonstruktion af slettede filer inklusiv slettede backup filer fra AppleTime Machine. Som et alsidigt værktøj med avancerede søgemuligheder kan der hurtigt søges efter og rekonstruere billeder, videoer og musik.
Rekonstruer tabte filer fra iMac, MacBook Pro, MacBook Air, Mac Mini og Mac Pro og Apple Time Machine. Kompatibel med macOS High Sierra 10.13, 10.12, 10.11, 10.10, 10.9, 10.8, 10.7 og 10.6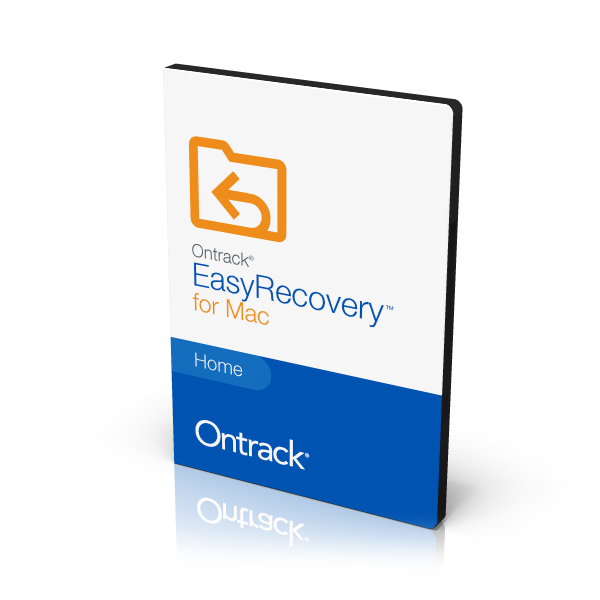 icon
Rekonstruer slettede filer
Som Mac bruger har du muligheden for, med succes, at genskabe slettet data fra: dokumenter, billeder, musik, filer eller videoer der uhensigtsmæssigt er blevet slettet.
icon
Hurtig eller tilbundsgående søgning
Ontrack EasyRecovery giver brugerne mulighed for at søge en specifik enhed, hurtigt, for derved at spare tid og muliggøre en hurtig rekonstruktion. Hvis de manglende filer ikke vises efter en hurtig søgning, så kan der efterfølgende bruges en tilbundsgående søgning.
icon
Genskab slettede volumer
Ud fra samlingen af værktøjer kan bruge finde og rekonstruere data fra HFS, HFS+, FAT, NTFS, og ExFat formatterede enheder.
icon
MacOS High Sierra Data Recovery
Ontrack EasyRecovery er fuldt kompatibelt med MacOS High Sierra 10.13. Alt du behøver at gøre er at følge visse trin for at forberede dit Mac-system til at rekonstruere data på MacOS High Sierra startup-disken.
Hvilken version har du brug for?
Free

Home

Professional

Technician

Mac Data Recovery
1GB
Unlimited
Unlimited
Unlimited

Data Recovery

MacBook Pro, iMac Pro, Mac Pro, MacBook Air, and Mac Mini

Languages

Selectable user interface in English, German, French, Italian, Spanish, Japanese

Recover Lost, Deleted or Formatted Data

Recovers and Restores Deleted Photos, Videos, emails & other Critical Files

Creates Recovery Drive for Data Recovery

Creates bootable USB media to recover data from a crashed/non-bootable Mac

Recovers Backup Files from Time Machine

Restores deleted or lost backup data from a Time Machine external drive

APFS Support

Recovers data from APFS, HFS+, HFS, FAT, ex-FAT, & NTFS systems. Supports macOS Catalina and Big Sur

KEXT Disable Feature

Get control of your security with the ability to disable KEXT

Recovers Deleted Files from Encrypted Hard Drives

Restores deleted data from an Encrypted storage device

Searches Lost or Deleted Volumes

Retrieves inaccessible files from lost volume(s)

Recovers Files from BootCamp Partition

Restores deleted data from NTFS partition

Create Image for a Corrupt Hard Drive

Recovers Data from Hard Drive with Bad Sectors

Comes with Save and Load Scan Features

Saves scan information for data recovery at a later stage

Supports a Wide-Range of Storage Devices

Recovers data from USB-C SSD, HDD, Fusion, memory card, etc.

SMART Drive Monitor

Disk cloning to facilitate secure data recovery

Repair Corrupt Video Files

Repairs MOV, MP4, MPEG, MTS, MKV, FLV & more video files

Repair Multiple Corrupt Videos

Repairs Multiple Corrupt Videos in a Single Click

Repairs Corrupt Photos

Repairs corrupt JPEG, ARW, CR2, CR3, CRW, DNG, ERF, HEIC, MRW, NEF, NRW, ORF, PEF, RAF, RW2, SR2, SRF, and TIFF

Extracts Thumbnails of Images

Extracts thumbnails of images for badly corrupt Photos

Commercial License

Recover data for your customers

Multiple Systems

Authorized for use on up to 3 systems at the same time
Rekonstruktionsprocessen – klik for klik!
Hent gratisudgaven
Hurtig-søg enheden og få oprettet en oversigt over manglende eller slettede filer.
Se oversigten – hvis din fil (filer) er i listen – så køb den fulde version.
Søg evt. efter specifikke filer ud fra navn eller type.
Vælg drev eller enhed der skal søges på.
Kopier de valgte data til en anden enhed.